WE ARE
MAGNIFICENT & MAGICAL
AND WHEN WE MASTER OUR EMOTIONS
WE MASTER OUR WORLD.
FEWER WORDS. MORE PRESENCE.
Wendy Down, PhD
---
I can now say, with certainty, that what we are and what we are capable of is far more magnificent and magical than many of us know. I've come to understand the human emotional landscape, how we can reshape it and how that emotional work is reflected in our bodies, the external world and the realization of our deepest desires.
I know why and how the resources of the universe bend to our will when we access the part of us unencumbered by historical beliefs and human limitations.
I know personally, professionally, mystically and scientifically why your presence – who you are at your core – is the most powerful force in the universe. I've been a seeker, a student, an academic; a thinker of big thoughts and a champion of your potential.
The best part is, you don't have to do any of the work I've done in order to access your full potential. You don't have to read about quantum physics, develop an intellectual understanding of this, have mystical experiences or spend years of your life doing experiments in consciousness. I've done it for you. It all boils down to something very simple; the laws of physics, the application of everything I've come to know, become available and operate seamlessly in the background, when you become fully present.
Your presence – who you are when you are being most genuine, open, available and unprotected – is the most powerful influence in the universe.
Anyone can realize more and more of their innate potential by learning to move beyond the invisible walls that have us believe ourselves to be both limited in influence and separate from everything else.
So… who are we and what are we capable of?
Who we really are is universal love experiencing itself from our unique, personal point of view. We are limitless. And we have the resources of the entire universe available to us to create experience and matter out of focused intention.
IT EVOLVED INTO A MAGNIFICENT FORM OF DUAL AWARENESS OF WHO WE ARE BEYOND OUR HUMAN EXPRESSION.
I've spent over 20 years developing and refining a signature process - the In Deeper Process - that helps people harness the principles of quantum physics to express more and more of their unlimited potential in their daily personal lives. That's what this site is all about.
Discover what lights you up and then… go for it!
Are you interested in a richer life that contains more ease, satisfaction and joy? Do you long to laugh more, stress less and enjoy the best that life has to offer… now? Are you ready to let go of the past, stop struggling with what's not working and find what both works and makes you happy? If so – you've come to the right place.
BEYOND
WE HAVE CAPACITIES FAR BEYOND THE HUMAN LIMITATIONS WE'VE ACCEPTED
For my PhD dissertation, I created a study to test my ideas. Could we access our right brain perception of the world as energy and use it to successfully navigate towards specific desired goals? In other words, could I help people achieve their desires by doing 'inner work' rather than by taking action? I led a study group of 50 people through a 6 month online program designed to help them realize a self-selected goal through consciousness alone. The results were a whopping 91% satisfaction rate.
"Your gift is stunning. My changes seem magical, yet are real."

I knew you'd take me to places I'd not been. Bring light to those parts of me that were anxious and scared. Your gift in how you describe shifts Wendy, is just Stunning. You bring deep Presence, along with skillfully working with aspects of the "human condition" that few others I've experienced are capable of doing. And the changes I've experienced working with you often seem magical, yet they are real.
– Carly Anderson
MCC. Mentor Coach for ICF credentials, Leadership/Executive Coach
"A Master of Quantum Consciousness!"
I've worked with Wendy Down over the last 10 years personally, as well as witnessing her work with others. From the start, I found her presence immediate, her allowance for all of me rare, and her love palpable. I have described her as coming from greater space, and yielding greater space, allowing one to naturally unfold from world and self imposed limitations, and awaken to your larger Self.
– Charlie Verge Ph.D.
Clinical Psychologist, Author, Consciousness Facilitator, Director of The Center for Intentional Living
"Sky's the limit. Most transformative experiences of my life."
You are the most 'sky's-the-limit' human I've ever had the pleasure to meet. Working intimately with you has been one of the 3 most transformative experiences of my life.
– Tori Anderson
Fine Artist
"Deep insight into the human psyche"
First among all psycho-spiritual pursuits, to know thyself is paramount. Dr. Wendy Down possesses a deep insight into the human psyche, and understanding of what motivates us to do what we do.
– Dr. JP Farrell
Internationally best-selling author of Manifesting Michelangelo, the story of a modern-day miracle that may make all change possible.
RADICAL
TRANSFORMATION
No matter what has happened to us, we have the capacity within us to heal it. We are bigger and more powerful than anything we have experienced or ever could experience. This truth is not only a metaphor, but a literal truth. And further, once you learn how to do it, resolving the emotional 'residue' from past experiences can even become natural, intuitive and, dare I say, easy.
About Wendy
Defying convential wisdom


---
A lifelong student, Wendy graduated from the University of Calgary with a Bachelor's in Nursing, followed by a Master's in Adult Education from the University of Toronto. After teaching in the Faculty of Health Sciences at McMaster University, she sought professional training at Coach University, the leading coach training firm accredited by the International Coach Federation (ICF). She then transitioned from teaching Nursing to creating a thriving
Life Coaching practice working with thousands of individuals through her innovative private, corporate and online programs. In 2020, she completed a PhD in Integrative Medicine from the International Quantum University of Integrative Medicine. On the side, she is a graduate of the New York Institute of Interior Design.
Learn more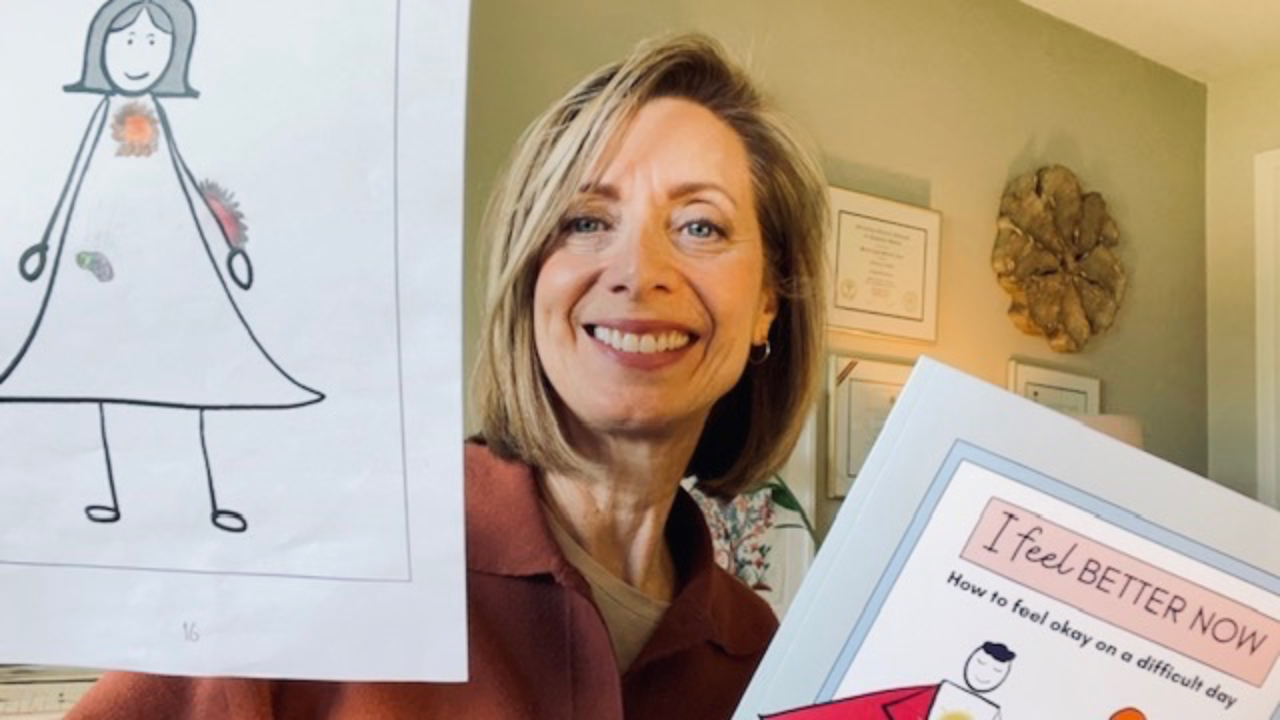 Addie, age 10, l...
Addie was in a Grade 5 class that pre-tested my new children's book, 'I Feel Better Now; How to feel okay on a difficult day...
Read more >